Bocce Tournament
Wednesday, July 27, 2022 (10:00 AM – 5:00 PM) (CDT)
11am-5pm
Skyline Social & Games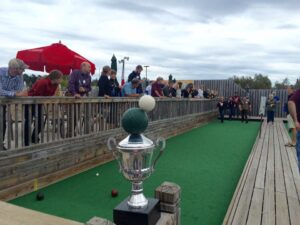 4894 Miller Trunk Hwy, Hermantown, MN 55811
Join us for a day of competition and networking! Our Bocce Tournament is open to everyone and no experience is needed – we'll show you everything you need to know.  Gather your co-workers or join forces with another business. We are looking for teams of four but if you can't find enough – let us know and we can help!
$350 includes court sponsorship (tee-sign) and a team of 4 with 2 alternates!
$300 includes a team of 4.
$75 is a court sponsorship (tee-sign posted at event)
Learn more and Register Here 
Annual Golf Tournament
Thursday, September 15th
10am-5pm
Pike Lake Golf & Beach Club
4895 East Pike Lake Road, Hermantown, MN 55811
Our Annual Golf Classic is an event for Chamber members and their guests. Participation includes 18 holes of golf, cart, dinner, and a putting contest. Compete in proximity events at each hole and WIN great prizes! Plus your chance at the LesChuckLynn Trophy!
Teams of 2, 4 or 5 depending on sponsor level. Estimated attendance range 90 – 144 (depending on course).
Get Involved! Assemble a team. Register as an individual. Sponsor a tee sign or hole. Hit the links with our Gold, Silver or Bronze Sponsorship packages. Teams will enjoy the day of golf 18 holes (around twice at Pike Lake) and a steak dinner after.
Own a hole on the course during our event! A Hole Sponsorship includes owning the tee box and being able to meet and network with each group of golfers. Bring signage and/or giveaways to help promote your business. Get your business noticed with a Tee Sign Sponsorship. This sponsorship gives you the opportunity to have your business's logo displayed on a sign next to a tee on the course. Are you unable to make the event, but would still like to be involved? Consider being a product sponsor and donate an item for our swag bag, such as; golf balls, golf tees, towel, shoehorn, sunscreen, bottled water, the list goes on and on.
LesChuckLynn Trophy – the Stanley Cup of Hermantown!
2021 Trophy Winner: McGough Construction
2020 Trophy Winner: McGough Construction
2019 Trophy Winner: Lake Superior Law
2018 Trophy Winner: Lake Superior Law
2017 Trophy Winner: Centricity Credit Union
2016 Trophy Winner: Cartier Agency
Register by August 15th
unWINEd Tasting Gala – at the NEW Pike Lake Event Center
Thursday, October 6, 2022 (5:00 PM – 9:00 PM) (CDT)
Designed as a tasting event, the Hermantown Chamber's annual UnWined fundraising event features wine, beer, and delicious food samplings from member restaurants around the region. The event will also include a silent auction.  All proceeds support the Hermantown Area Chamber of Commerce, a 501(c)6 nonprofit organization.
Thank you to our sponsors, donors, and restaurant & beverage vendors
for participating!
Silent Auction items requested!  Please contact the office at info@hermantowncha
mber.com or call 218-729-6843.  Thank you so much for your donation!
Annual Meeting
Thursday, November 17, 2022 (12:00 PM – 1:00 PM)
Members, join us for our annual meeting as we welcome new board members and say thank you to our board members whose term has passed. We'll also recognize our volunteers, including our Ambassador of the Year. We will recap the highlights of the past year and share an inspiring message from a great keynote speaker! It is a full hour and a half of laughs, fun, and a delicious meal catered by one of our members each year.
Learn more and Register Here  |  ANNUAL MEETING Sponsorship Sheet