A message from our President & CEO Kim Parmeter:
We truly appreciate and value your membership, and welcome new members any time of year!  
Chambers are the oldest and largest organization of private business in the world.  Your membership, the networking programs, and the events you attend and sponsor are micro-investments in our community.
Your support helps us do the work that we do. 
We represent your voice in legislative affairs where needed – locally, regionally, at a state level, and sometimes nationally not as lobbyists, but as advocates for business.
Why is this important?  Because business needs a voice.  Other groups have a voice in government: unions, faith-based organizations, non-profits, industry-specific groups, activist groups, etc. – all of these are important and necessary in their own way for bringing their organizations' ideas and concerns to our elected officials.  WE represent the voice of business – broadly and loudly.
Here's how we use our voice.  By being a member of our Hermantown Area Chamber of Commerce, the collective voice of business is amplified through:
the work we do locally in Hermantown, Proctor, Rice Lake, Duluth, and surrounding municipalities.  Legislators take notice when our 270+ members speak in unison.
North East Minnesota Chamber of Commerce Executives* Representing Bemidji, Cloquet, Duluth, Ely, Grand Rapids, Hermantown, Hibbing, International Falls, Lake County, Laurentian & Moose Lake Chambers (Your business can also become an independent member of these chambers.)
Minnesota Chamber of Commerce Executives
Minnesota Chamber of Commerce  (Your business can also become an independent member of this chamber) 
our Minnesota Chamber Federation Partnership  Our advocacy is further bolstered by the 50+ partners who are unified as the MN Chamber federation – chambers across the state that adopt and advocate for the top pro-business legislative priorities.
Mid America Chamber of Commerce Executives (Representing MN, WI, ND, SD, IA, NE)
US Chamber of Commerce (Your business can also become an independent member of this chamber.)
We're also the conveners in our communities.  We bring our member partners in education, government, health care, labor unions, and others together to connect and discuss issues, solutions, execution strategy, outcomes, and impact.  
Our vision is to promote a strong and growing regional business climate to enhance the vitality of the communities we serve.  And we're doing it.
Our board of directors and our exec team have been working through a lot of local and regional issues lately that we've been asked to weigh in on. It's not easy, but it's important. And we know we can't make everyone happy with our decisions because we literally serve a membership from the single-person side hustle to 5000+ FTE. We really work to try to understand all of the angles and implications of every decision we make and how that impacts the community.
We implore you to reach out to us when there's an issue on the table. Most times, we hear it from our members first – because it might affect YOUR business or YOUR industry and it matters. You can always reach out to me – 
[email protected]
If you're in business, you need the chamber.  If you think your business is too big to need the chamber – maybe your chamber needs you!  We have a special membership and designation for this group of businesses as pillar members of our community.  
So if you're not a member and you are reading this – and you're are a decision maker in your business – now is the time to join.  Become part of the collective Voice of Business.
Thank you for your time and consideration, and for many of you – thank you for your investment in our community.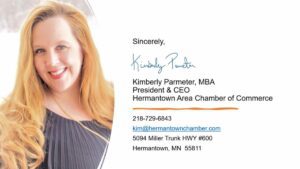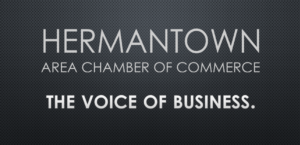 *President & CEO Kim Parmeter has served as chair of North East Minnesota Chamber of Commerce Executives since 2021.
Network with our community:  Make plans to attend an upcoming event or meeting!
Stay informed with our:
Connect With Us:
Visit:  We are open Monday – Friday from 9a-5p in the Hermantown Square (HWY 53 & LaVaque) between McKenzie's Bar & Grill & Reliable Insurance Agency.  (If we're out of the office, we're probably at an event or meeting our members!)  From Memorial Day – Labor Day Fridays are by appointment only)
Call:  218-729-6843 (Leave your number and a message so your call can be returned if we miss you!)
Send Mail:  Hermantown Area Chamber of Commerce, 5094 Miller Trunk HWY #600, Hermantown, MN  55811