Here's a quick way to pay your dues online. Just click below:
You'll be asked to login to the member portal to access your statement. If you haven't created a login, it's very simple and takes less than a minute. If you have any issues logging in, please contact the office right away – we'll know how to fix it! 218-729-6843 or [email protected].
About 80% of our members renew in January. For new members, membership renews one year from the month you join. You can always log in to the member portal under the membership tab to double-check your renewal date.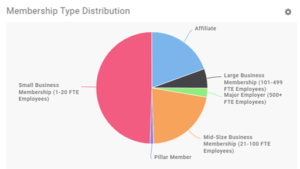 In April 2022, we adjusted our membership categories to more accurately reflect our membership into SMALL BUSINESS, MID-SIZE BUSINESS, LARGE BUSINESS & MAJOR EMPLOYERS.
As you can see, about half of our membership has 20 FTE employees or less, a quarter is mid-size businesses, and the rest is everything else.
In 2022, we used surveys, emails, and calls along with a publically available business database to verify FTE employee counts, as we adjusted our membership into these easy-to-understand membership categories. The result? We have a MUCH BETTER understanding of the makeup of our chamber, which informs us how to serve you better. We also learned that a few FTE counts were off, mostly with our businesses that are seasonal or have a lot of part-time employees. Please feel free to use the FTE count on the link above that MOST ACCURATELY REFLECTS your business footprint.
(Reminder – It's your BUSINESS, not a department or the number of people that attend chamber functions – it's the whole BUSINESS FTE employee count. This is important as we strive to accurately report the makeup of our chamber of commerce.)
Please reach out to the Chamber if you have any questions at 218-729-6843 or [email protected]
Thank you!
---
Your membership dues are so very important to the work we do. We appreciate and value your support and work hard to advocate on our member's behalf to create a better business environment. As an added value, we offer up a variety of programs and events we think our members will enjoy. The price of membership is what you pay. Being part of a regional business community that supports each other is the intangible value of being a chamber member.